Personal News
Harris Kenny
It's been about two months since the last update—but for good reason! Here's what's new:
Personal News: My wife and I had a baby girl and she's keeping us busy! Between this and product development, it's why I skipped an update in October.
Integrations: Alpha testers have a CRM that integrates with Basecamp, Trello, and Asana. Personally, I've been using the Basecamp integration.
Other Updates: Product updates are provided via ProductFeed. Customer support—including documentation and ticket requests—is provided via Groove.
Read below to get the full update.
This update first went out to the Intro CRM email newsletter.
Personal News
My wife and I had a baby girl! Because I run my own business, I've been fortunate to spend a lot of time with both of them over the last two months.
I've continued to work with consulting clients and am still building Intro CRM.
Get an update on how it's going—and hear from the baby—in the new episode of the Pipeline Meeting podcast.
Listen below, read the transcript, or search for "Pipeline Meeting" wherever you get your podcasts.
Integrations
Integrations are here! In the latest episode of Pipeline Meeting, I explain how it works. They are live and being used by alpha testers right now.
In short: Intro CRM pushes your deals to your project management software of choice. Since you spend most of your time managing tasks over there, it makes sense to have tasks there—versus a redundant task manager in a standalone CRM.
Other Updates
Product Updates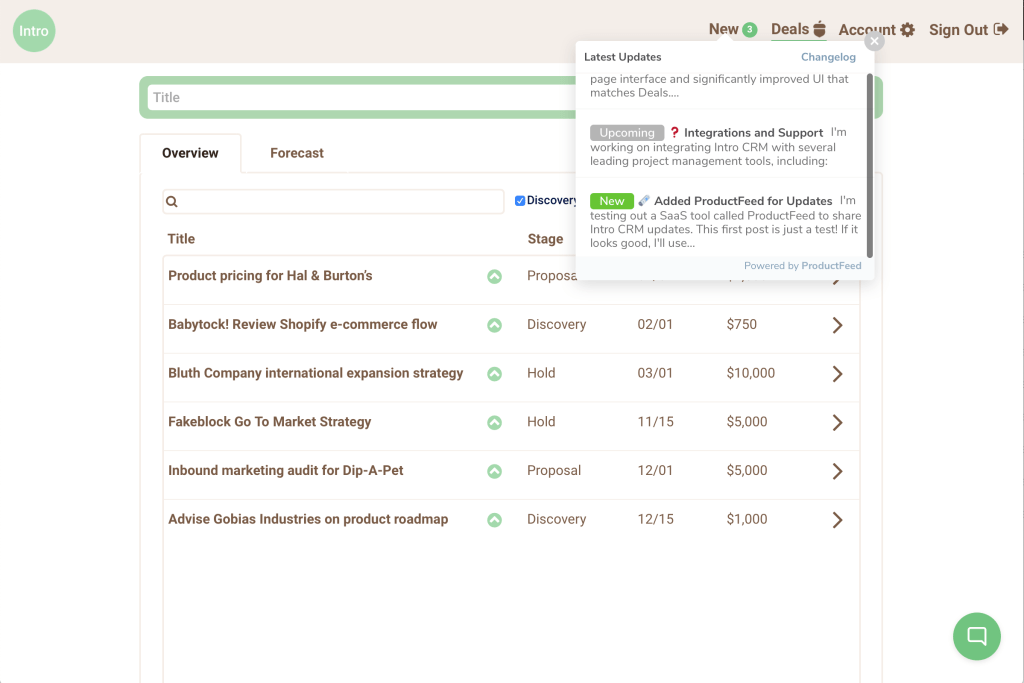 Thanks to help from some experts, product development is accelerating. Taking a cue from the team at DocSketch, I've gone ahead and implemented ProductFeed to share updates and maintain a Changelog to show what's new.
Customer Support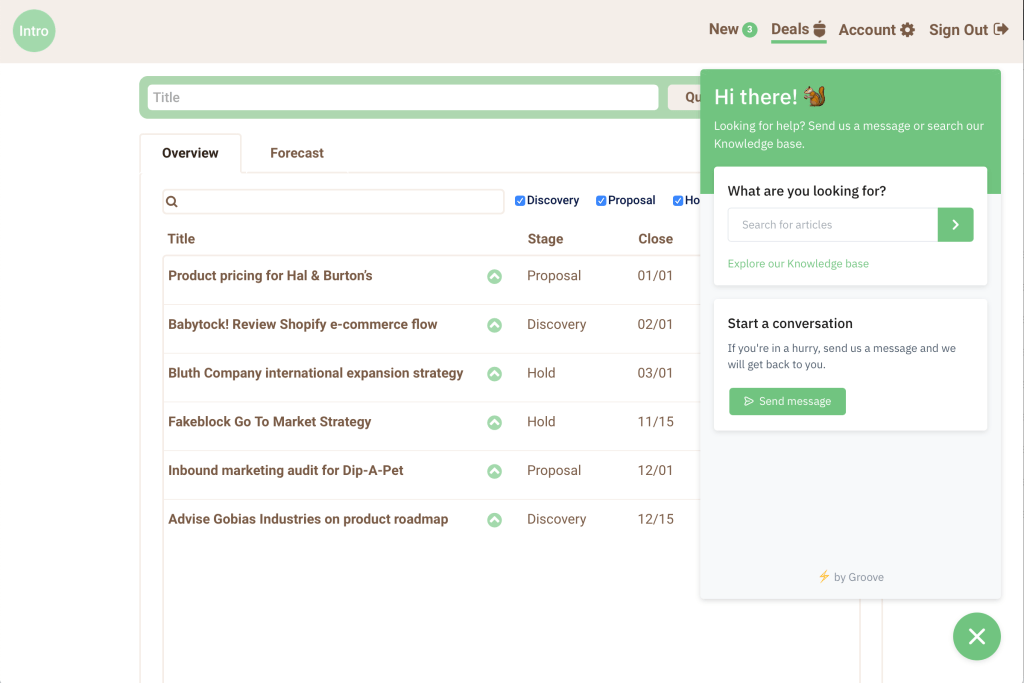 Special thanks to the MicroConf community! I wanted to implement a support documentation and ticketing system, someone recommended Groove. Groove is now live and the first set of articles are about how the deal integrations work.
Request Early Access
There's a host of product improvements in progress that will be rolling out over the next five weeks. If you are interested in seeing how it works, click the button below to get in touch.