Personal News (Episode 5)
Harris Kenny
Harris shares some big personal news, an update on Intro CRM, and talks about his pipeline through the end of the year and into 2021. Plus, new cover art!
⚠️ Please note: This is an old episode of the Pipeline Meeting podcast. In August 2022, the show relaunched in a new format. For the most recent episodes, please visit the podcast page.
Show Notes
In this episode, Harris shares some big personal news featuring a special guest from an eight-week old guest whose arrival caused the show to go on a short hiatus.
Next an update on Intro CRM. The CRM integration with project management tools like Basecamp, Asana, and Trello is complete and available for alpha testers. Harris talks through the rationale of how the integrations work today. If you don't want to spend all day in your CRM, then this tool might be for you. Whether you are a solopreneur or small team, you might want a CRM for small business.
Finally, Harris recaps his pipeline and how his strategic plan for 2020 shaped up. He took some big chances in changing the business model to ensure that it was providing the lifestyle he wanted—how'd it go? What's next? And how are you thinking about your business going into 2021?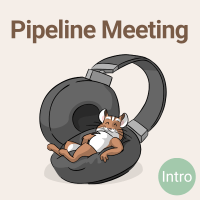 Show Description
Pipeline Meeting is a sales podcast for founders and sales leaders. If you are looking for actionable steps to close high ticket deals, you're in the right place. Tune in for help with things like cold outreach and qualifying inbound leads. We regularly feature guests and experts to take our business to the next level. Pipeline Meeting is hosted by Harris Kenny, the founder of Intro, a company that provides sales as a service.
Subscribe wherever you get your podcasts: Amazon Music, Apple Podcasts, Castbox, Castro, Deezer, Google Podcasts, Overcast, PlayerFM, Pocket Casts, Podcast Addict, Podcast Index, RSS, Stitcher, Spotify, TuneIn, or Twitter.
Transcript
Intro
Harris Kenny:
If you feel alone managing your business' sales pipeline. Welcome. Consider this your invitation to join me, Harris Kenny, for a regular sales pipeline meeting, we'll discuss finding new business and pricing, cashflow, things like getting ghosted, winning proposals, new technology, and a lot more brought to you by intro CRM.
Episode Overview
Harris Kenny (00:40)
Welcome back to Pipeline Meeting. It has been an eventful couple of months here, and the show has been off for a little while because my wife and I have been busy raising our new daughter. She's almost eight weeks old and it has been a handful helping her get acclimated to life over here. But fortunately, I think we have things relatively under control. I've also been doing a lot of deep product development work on Intro CRM, and that's coming along. I'm excited to share more about that as we get back into a regular cadence releasing episodes here. Finally, I've been busy with the business. So I'm just going to touch on each of these things really quick, talk about my pipeline, what I'm working on with Intro CRM, and then get outta here, and know that there's a lot more to come.
Special Guest Feature
Harris Kenny: (01:27)
So first the baby's doing great. I'll let her speak for herself here. I've got a little clip.
Baby: (01:32)
(Baby cooing noises.)
Harris Kenny: (01:37)
She's just making lots of baby noises, squeaking, all that stuff.
Intro CRM, Basecamp CRM Integration, and More
Harris Kenny: (01:39)
Next, okay: What's going on with Intro. Intro CRM is coming along. I have been working really hard at improving the interface. We've implemented a lot of new features, and I say we, because I've had some help with the UI and the UX, I've also had some help with core features, including the integrations. So I'm going to be sharing more about how intro CRM integrates with Basecamp, Asana, Trello shortly—in future episodes here. What I want to talk about high level is that I've been using intro myself now, and it is so basic. I find myself really keeping up with it, in a way that I have not with other tools that I've used before. So I'm really excited to share that. And the integration is working too.
Harris Kenny: (02:27)
So you know, I use Basecamp to run my business. I keep track of 95% of my tasks in Basecamp. I've got clients who say the same, not only Basecamp but also with Trello and Asana and tools like that. Intro basically pushes your deals into your project management software while maintaining this separate, clean CRM space for you with increasing functionality around managing deals that you're just not going to get in a project management tool. But if you don't spend most of your time in a CRM, because you're not a sales rep, you're a solopreneur, solo founder, or, you know, a small business that's looking for a CRM, then a tool that doesn't require you to be in it all day is just what you need. At least that's what it feels like so far.
Harris' Pipeline Meeting
Harris Kenny: (03:18)
And speaking of that business, my side of the business, I've been focused on finishing out the year. So, you know, my question for you, we've talked in the past—in past episodes of this show—about deals through the end of the year. What does the new year look like? So we know when I ended my first year in business, last year, I really a lot about the base of my business. It was concentrated on a few clients that were paying them relatively higher amount, paying most of my bills. And it just felt very fragile. As I entered this year, my goal was to bring down my average deal size. I wanted to distribute that risk across a few different clients. And I also wanted to introduce some new ways of making money.
Harris Kenny: (04:02)
I'm really proud to say here in quarter four, the podcast Hello Blink Show that I record with Shawn Hymel, that's now generating some modest sponsorship money. Intro CRM is my longer term goal, you know, for productizing my business. I've also just had a broader base of clients, smaller deal sizes in different geographies, different industries—and I've learned a lot from that.
Harris Kenny: (04:25)
So the year is finishing as I'd hoped it would, and I'm entering the new year now, really trying to grow these non-service income streams. And you know, it's going to be a challenge, but that's—that's personally—what I'm working on. And you know, so overall the business is good. I've had some deals and some projects that didn't go quite as expected. And I think I'm going to be talking about those in future episodes room for growth, for me, for sure. But that's what I'm working on. The podcast is back. There's some new cover art, and I really appreciate you listening. I'm excited to share more as I'm getting more testers in to Intro CRM and working with more founders with some new tools.
Outro
Harris Kenny:
Thanks for listening to Pipeline Meeting. The theme music is by Neighborhood Vandal and is shared under a Creative Commons Attribution—or CC BY—license. To learn more, read the show notes, and continue the conversation, visit IntroCRM.com.