What's next for Intro CRM?
We're so excited for the upcoming months here at Intro CRM. We want to take some time to give you a recap of the past two years and catch you up to speed on what's coming next.
How Intro CRM started.
In June 2020, after a year of solo consulting, Harris was tired of it. Tired of seeing the same issue come up over and over again. Which issues you ask? The ones that stem from founders not being able to keep up with their CRMs and other sales tools.
(If you're not familiar, CRM stands for customer relationship management. And CRMs are software tools that people use to track their prospective opportunities and customers.)
Week after week, he'd help founders come up with growth strategies and see that they wouldn't be put into effect. Too busy. Not enough time to focus. Deals would remain stuck. So, Harris decided to build something so simple that even the busiest person could keep up with it.
Harris assembled a team, and together they built the most straightforward CRM he could imagine. Intro CRM. His vision was to create a software that worked with your existing task management softwares to keep tabs on deliverables and actions easily, so you could keep your pipeline moving. After a few months of building and testing, we opened our doors to a select group of friends and colleagues for testing.
When all was said and done, over 100 people tried out the first version of our product, appropriately named Intro CRM. There was only one problem though. And it was a big one.
People didn't use our first CRM, either. Seriously.
We made the simplest tool we could imagine and yet found once again that founders are too busy. While this bolstered our conviction that there is a problem here—it also suggested that we simply went about solving it the wrong way.
In the new year, we began asking customers a different question. What if we used your CRM for you? We received a resounding "yes" from our testers, Harris' consulting clients, people on Twitter, and elsewhere
So in February 2021, we began introducing productized services. The idea was to take the solo consulting that Harris' was doing and standardize it. Bring on a team to help deliver those services and make them repeatable between customers.
We started with a menu of services across a wide range of areas. Generating and qualifying leads. Creating proposals. Even marketing-adjacent tasks like website landing pages. All in the pursuit of figuring out what could we do effectively and repeatably—that created value for entrepreneurs and helped them grow their businesses.
As we'd hoped… A trend emerged.
We started focusing our concierge services around a few simple offerings regarding outbound sales.
Through the process, we learned a lot about what the future of Intro CRM looks like and what it takes to create repeatable and worthwhile outbound sales efforts.
During the past few months, we have been working hard to make sure our clients are getting the right leads through the use of in-depth data. Together, we learned how to work with you to configure a sales playbook unique to you and your buyers. After we nail down your playbook, we use filters like firmographics, demographics, technographics, and psychographics to ensure the leads we send your way are as close to perfect as we can get.
The evolution we have undergone in the past few months brings us to the present day. Each week we're getting feedback from our customers regarding the quality of the leads they are delivered. Immediately we're able to take that feedback and iterate to make sure the next week is better!
We've been doing this work with our clients through spreadsheets and emails, and it's worked, that has always been a means to an end. We're now going from a productized service company to a tech-enabled service company.
What's a tech-enabled service and how does that affect what we're doing next?
We're launching an app!
Yes, you read that correctly – this month, we're launching an app to accompany our sales services and make the user experience as smooth as butter!
We've taken our spreadsheet process, validated with over 6 months of work, weekly reviews and meetings with customers, and countless iterations…
And we turned all that into an app that we call Lead Rater by Intro CRM.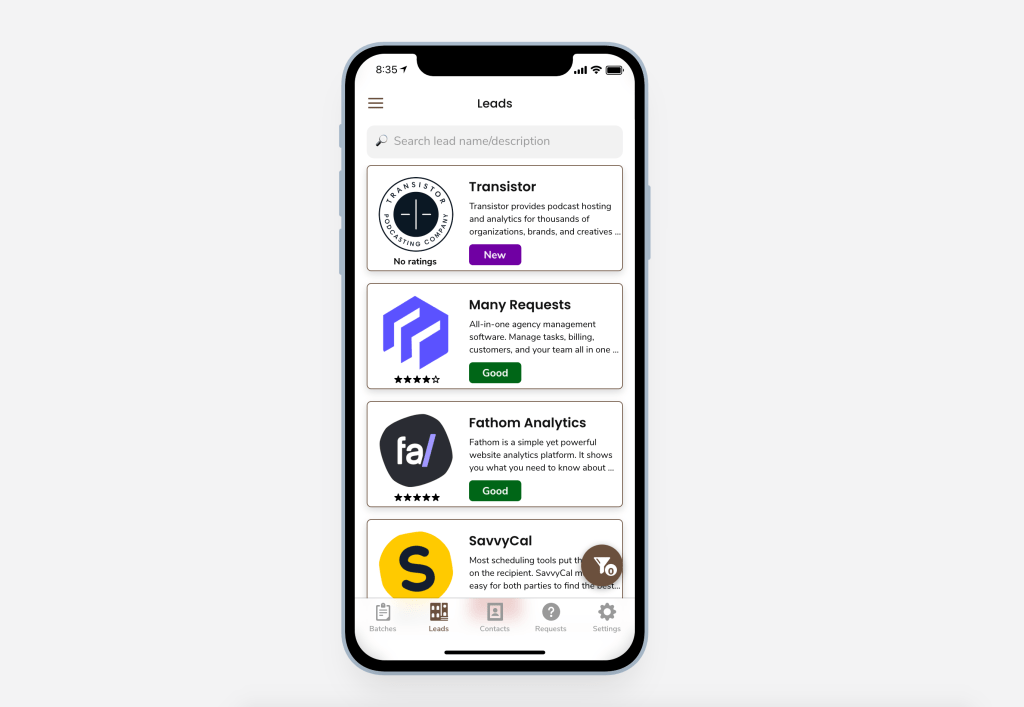 When customers log in, they're presented with batches of leads that they rate and provide additional feedback. Each week, we take that feedback and improve the next batch of leads.
It's a web app that can be added to your desktop or mobile device, for quick access. We built it quickly using a no-code tool called Glide with our friends at the Low Code Agency.
Of course, this is just the first major step since our pivot in February of this year. Our focus on providing a tech-enabled service means that we're planning on building a suite of internal and external tools to get better every day. Our goal is to build the perfect virtual sales assistant, to help entrepreneurs scale their sales efforts.
If you want to get a first-look at our new app, sign up for the Intro CRM newsletter. We sent out updates once a month. You can also follow us on Twitter or LinkedIn for quick updates!
Are you looking to stay in the loop about future happenings?