Opportunities, Basecamp, and Fathom Analytics
Harris Kenny
What I'm Building Right Now
As I explained a few weeks ago in Bootstrapping Intro CRM Alpha, I'm bootstrapping this business starting with building a v1 using Bubble. See screenshots below.
I'm starting with the Opportunities workflow and the scaffolding for People and Tasks. In parallel, my long-term hope is that Intro CRM will integrate with other like-minded software platforms like Basecamp and Fathom.
Oh and I officially set up Intro CRM in Basecamp for projects. So things are starting to get formal around here! This update went out first to the mailing list, so if you're interested in following along please sign up below.
Opportunities, Leverage, and Priorities
CRM product managers seem to assume people will use and love the entire product they're building. Nope. But CRMs can help manage three things:
People: People who you might work with.
Tasks: Activities to advance relationships.
Opportunities: Deals to generate sales.
Tracking opportunities is the most important thing in the short-run. It's where money comes from! And I've seen it be the part of CRMs founders use most.
However in the long run, it is relationships with people that will create the most value for your business.
Opportunities are the highest leverage point where Intro CRM needs to create value right away. So I'm starting building there. When opportunities close and users see value in the tool, the goal is to make managing People and Tasks easy, so users move up to the long-term relationship building work.
Here's what that looks like so far: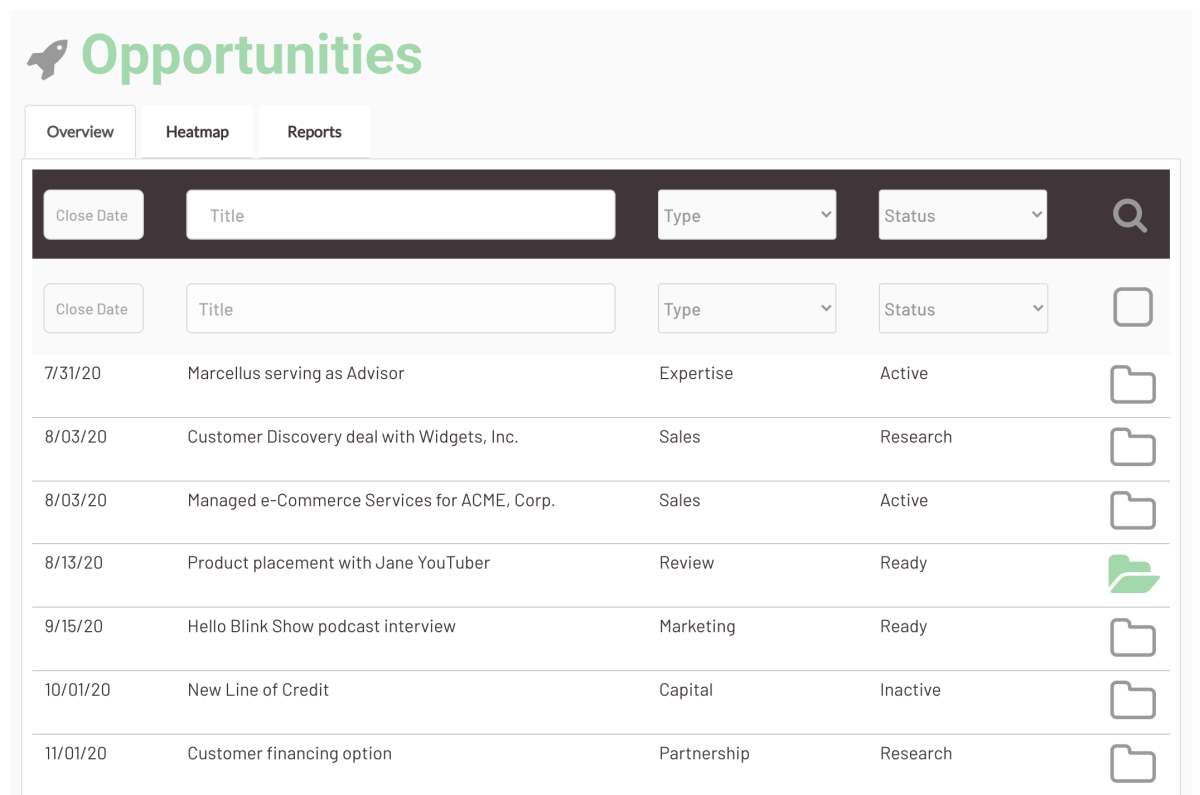 This is the early stage of the Opportunities dashboard. There are two questions I'm asking myself. First, what would it look like to include non-sales—but growth driving—activities? Think Marketing, Partnerships, Capital.
These are in-scope for an entrepreneur. These wouldn't make sense for a sales manager or rep. using at typical CRM.
The next question: De-emphasizing deal value?
Deal value is often made up, unknown, subject to change quickly, or only reflects initial value but not lifetime potential. It also doesn't capture the difference between revenue, income, and cash flow.
Maybe deal value is a distraction. Maybe not.
What do you think? Would non-sales activities be distracting? Is deal value essential in an overview? Let me know in the comments below or by tagging Intro CRM on Twitter.
Basecamp and Fathom Integrations
People want CRMs to do everything, but I think there are purpose-built solutions for Accounting, Invoicing, e-Signature, and more.
I want Intro CRM to do its job well. It will be responsive, so it can scale and sit in a browser alongside other applications. As a companion app.
But if there were other applications that I wanted to integrate with, the first two at the top of my list would be Basecamp and Fathom. Since I'm new to this, it's more complex for me and I've started working on this early.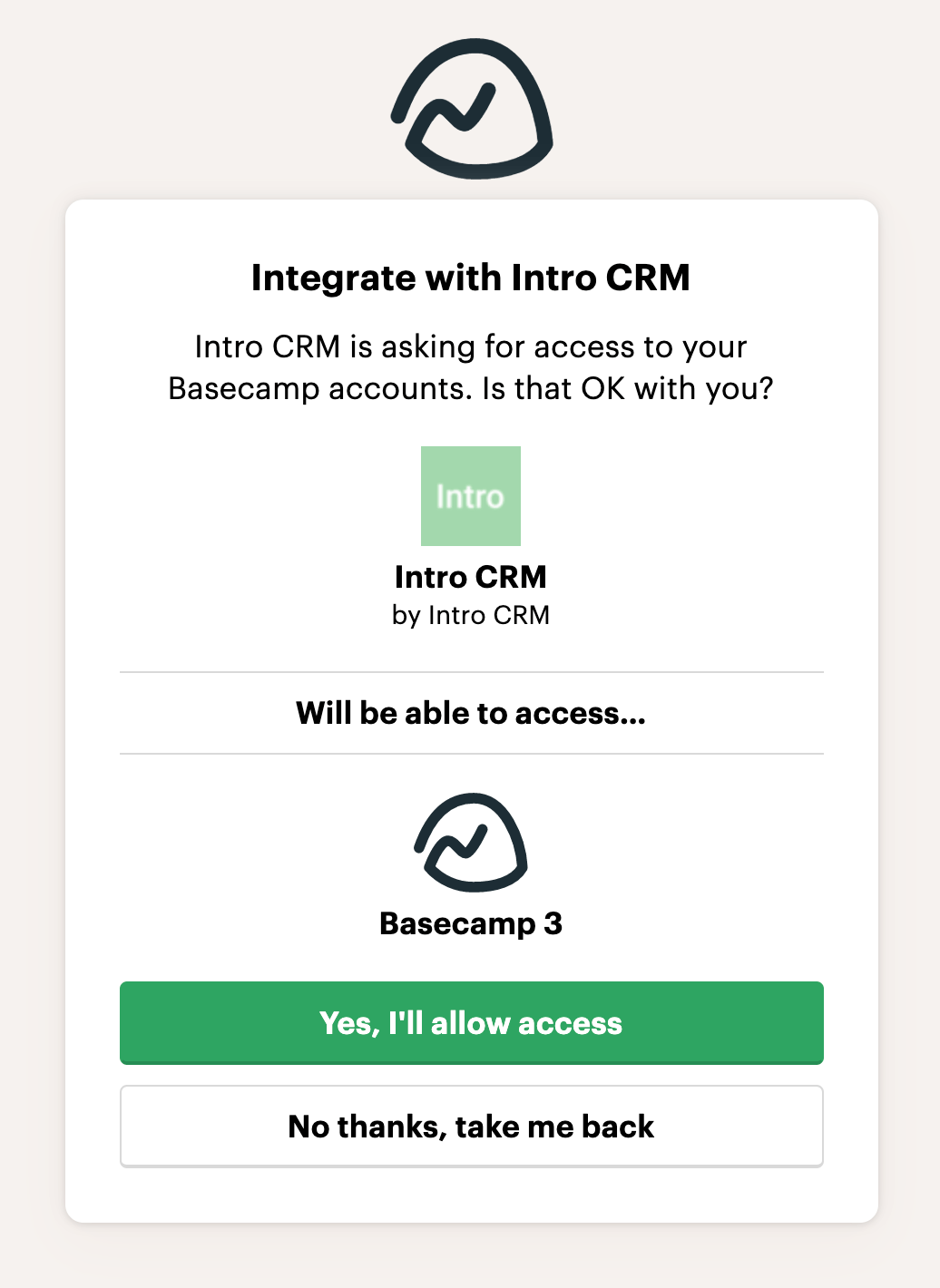 The biggest challenge with Basecamp will be integrating while also allowing tasks in Intro CRM to stand on their own, so that it's optional. I can immediately see how I'd personally use this integration, so I hope to figure it out.
As it relates to Fathom, they are working on their public API and the biggest question is where that data should live.
One question I got from the MicroConf Slack group about this idea was their wondering how I'd integrate it since Fathom is privacy focused.
Fair point! I'm not going to be able to integrate like other platforms do, that use tracking of individuals. (Think Hubspot, Marketo, Pardot.)
However I do think there is potential to include referrers, popular content, maybe even goal tracking to give you a sense of the sales health of the business through it's pipeline top of funnel.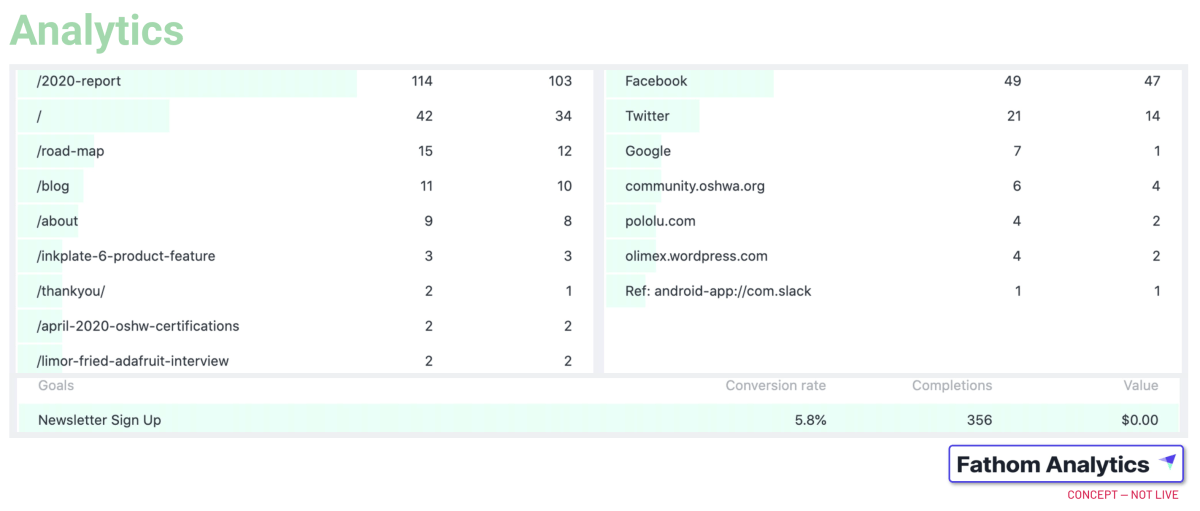 In practice, my experience is that most founders don't look at their web analytics at all because it (read: Google Analytics) is too complicated. Fathom addresses that with their simple and powerful approach.
question: if you were building a CRM (🖐️🏼) and planning on including a @usefathom #analytics integration when the Public API comes out, where would you want it?

— Intro CRM (@IntroCRM) July 18, 2020
So assuming you're now checking your analytics, where would you want that data presented in a CRM, if at all? I published a poll on Twitter.
Don't feel like logging into Twitter? Reply here and let me know!
That's all for today.
The next update will be a good one because I've already started using Intro CRM in my business to track Opportunities.
It's not featured enough for a full cut over yet, but it's a start!