AI-powered cold email assistant for sales
Launch campaigns faster
If you're cold emailing at scale, your process may look like this:
Build a lead list with databases and web scraping.
Write copy in a collaborative tool like Docs or Word.
Format for sending in your sales engagement platform.
Then start sending... But that third step is manual. DraftStudio is like a bridge between your writing and sending software.
Launch campaigns faster than ever with DraftStudio!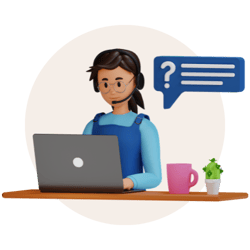 Rewrite Copy

Start with a draft of your email in Google Docs and use DraftStudio to create different variations. Make your emails more concise, write in a different style, or remix popular cold email frameworks.

Generate Spintax

DraftStudio helps you generate spintax for your every email variation you have. Get synonyms for words like "Hello" and phrases like "Does that sound interesting?"—then format with one-click.

Preview Spintax

Between variations and spintax, let's make sure they flow. DraftStudio will simulate every permutation of your spintax so you can see all the different combinations and fix any mistakes.
Stop landing in spam
Wondering why you would rewrite emails or use spintax? It's to avoid landing in the spam folder.
If you want to try using Spintax but haven't yet because it's too manual, you're in the right place.
Download our deliverability one-pager for more info.
Product Videos and Screenshots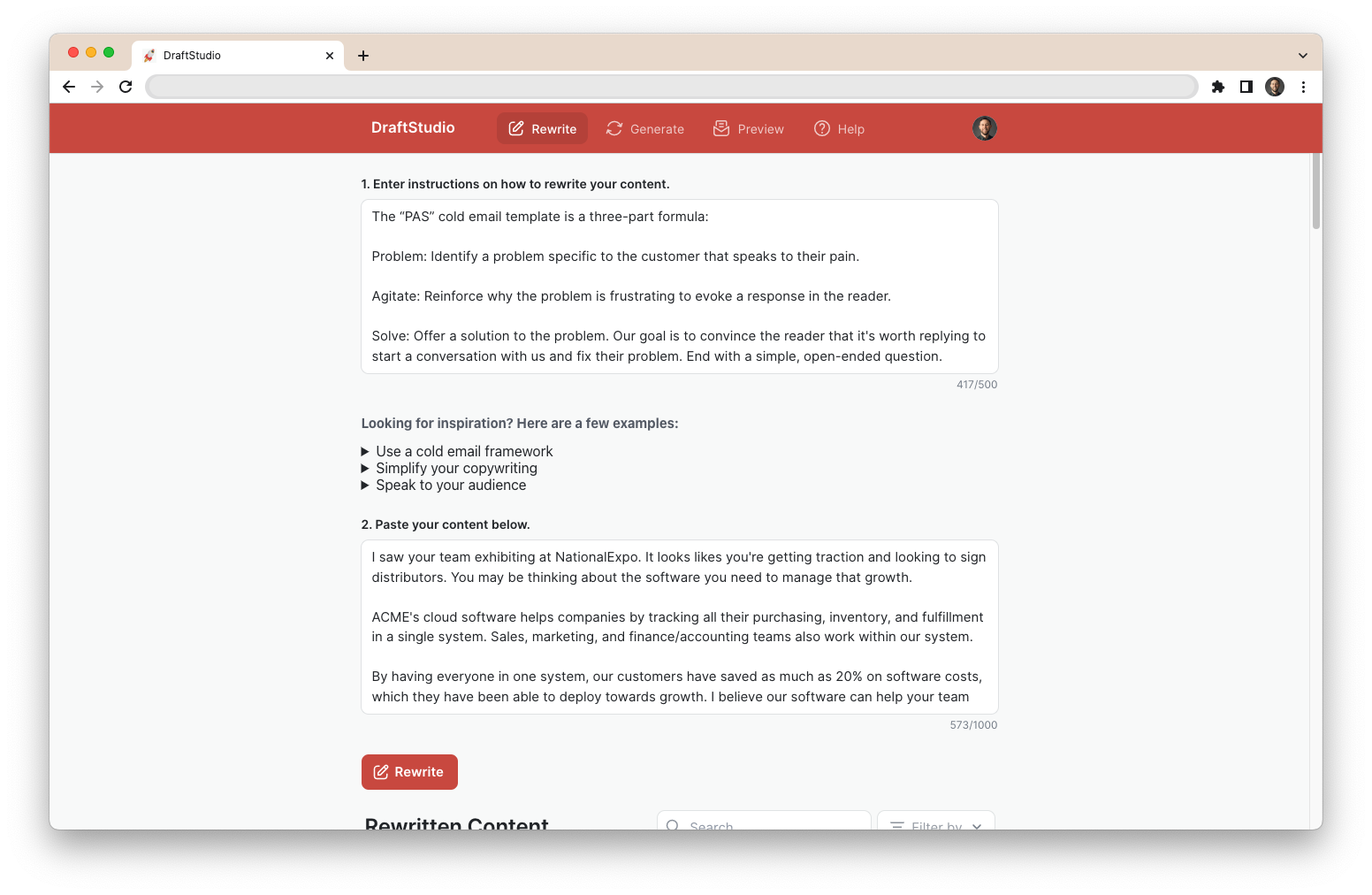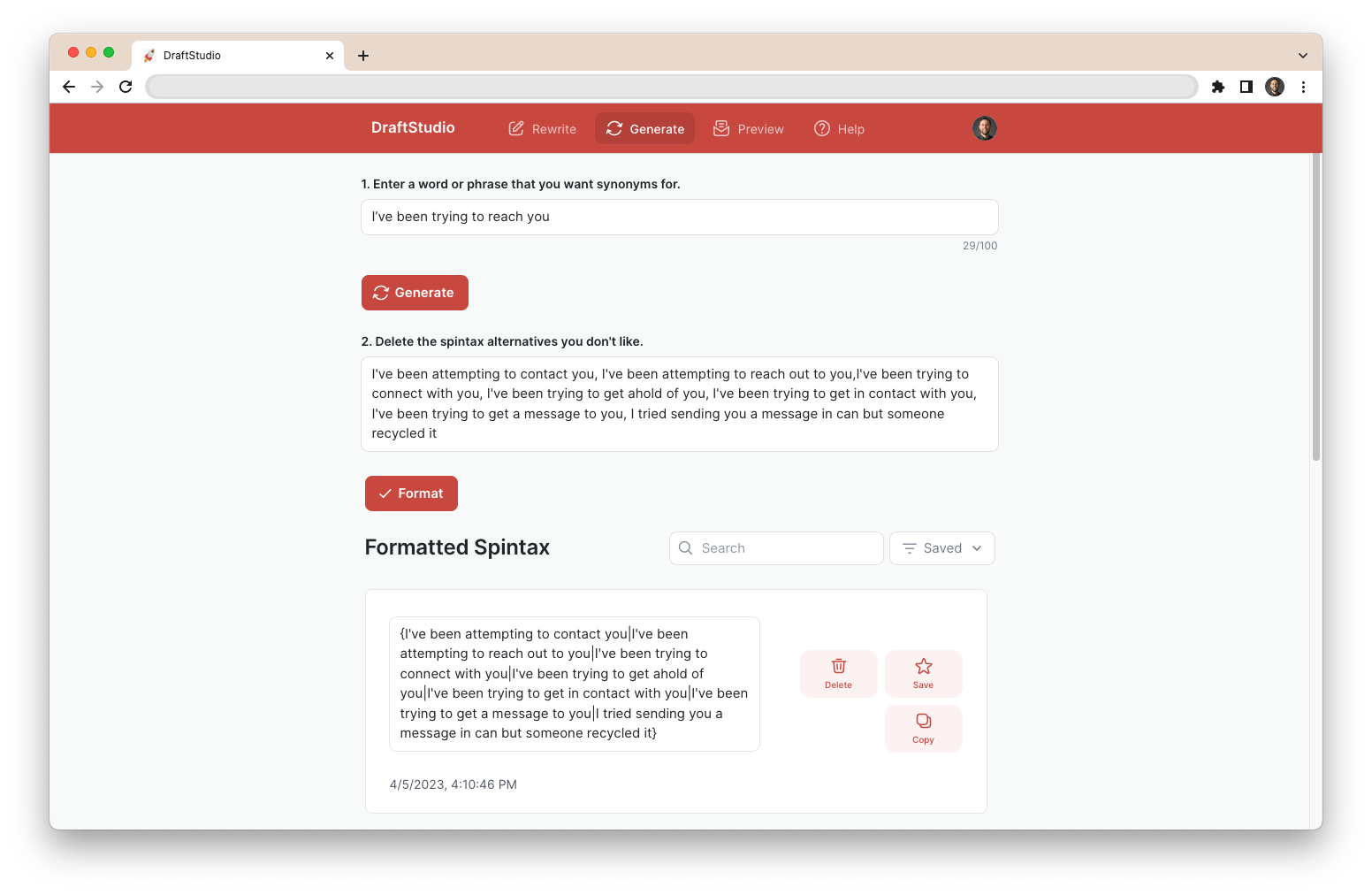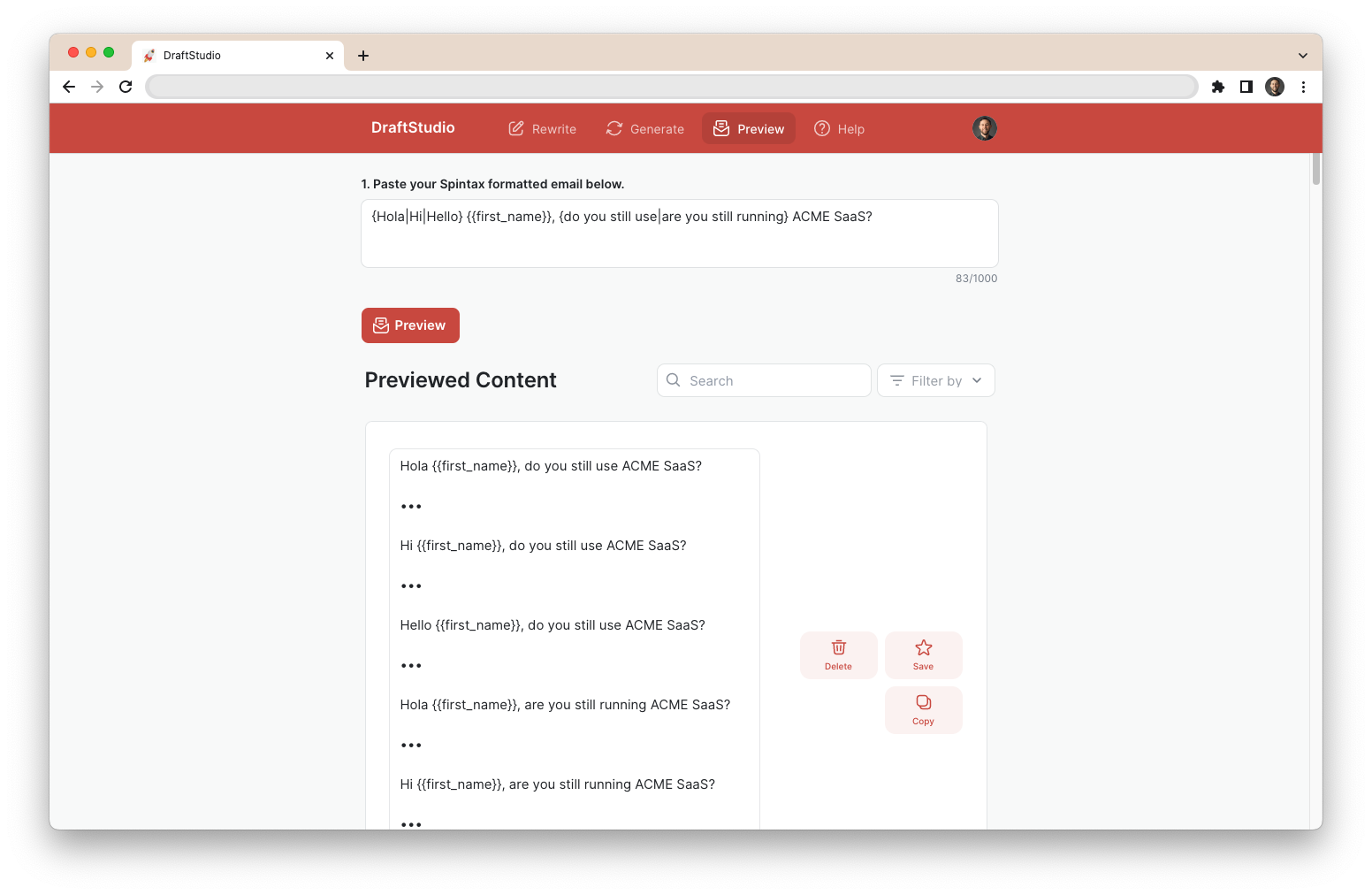 Origin Story
DraftStudio is a software product made by Intro CRM, a sales agency headquartered in Denver, Colorado. We've been in the fractional sales business since 2019. We've launched a lot of campaigns and sent many more emails.
One morning Harris was up early formatting the copy for a campaign. His daughter, a toddler who dislikes sleeping in, woke up before 5am. While he was singing to get her to go back to sleep, the idea for DraftStudio was born.
What if AI had been doing that work for me? Could I have been sleeping instead? With DraftStudio, the answer to that question is yes. But not for long because his daughter didn't go back to sleep that day—and she rarely does.
Read what users are saying
"I'm currently preparing email copy and found your tool at the right time.

The most useful feature for me is the ability to spin email text and then review it. It makes the whole process superfast.

DraftStudio is part of my tech stack now :)"
"I tried DraftStudio with a sequence and it was amazing. It also improved copy quality.

This will save a lot of time vs. manual work adding spintax, too."

"I've been getting a lot of value from using DraftStudio so far. I'm happy to provide a testimonial."

Request Access to DraftStudio Today